Abstract.
Trichosea ludifica (Linnaeus, 1758) is reported from Kazakhstan (East Kazakhstan Region, West Altai Mountains) for the first time. The species habitat in Kazakhstan is briefly characterized and illustrated. A list of noctuid moths occurring syntopically with T. ludifica is also provided.
Key words: new record, distribution, biogeography, bionomics, Altai Mountains, Altai-Sayan Mountain Region, mountain forest, fauna, East Kazakhstan.
DOI: https://dx.doi.org/10.37828/em.2022.53.9
Authors:
SERGEY V. TITOV (Institute of Zoology, Entomology laboratory;
Department of Biology and Ecology, the Research Centre for Environmental "Monitoring", Toraighyrov University). E-mail: sandibicumar@gmail.com; ORCID: https://orcid.org/0000-0003-2196-280X
Corresponding author – ANTON V. VOLYNKIN (Altai State University). E-mail: monstruncusarctia@gmail.com; ORCID: https://orcid.org/0000-0001-9447-4925
Introduction
Up to date, the only noctuid species of the subfamily Pantheinae known from Kazakhstan was Colocasia coryli (Linnaeus, 1758) (Kozhantshikov 1950; Kusnetzov & Martynova 1954; Anikin et al. 2010; Titov et al. 2017). During the entomological expedition in western Altai Mountains in East Kazakhstan, another species of the subfamily, Trichosea ludifica (Linnaeus, 1758) was collected by the senior author of the present paper. The nearest known localities of the species are in the central part of the Russian Altai Mountains (Volynkin & Nakonechnyi 2011), and the new finding is the westernmost known locality of T. ludifica in the Altai- Sayan Mountain Region.
Material and methods
The specimens examined are deposited in in the research collection of Sergey Titov (STP, Pavlodar, Kazakhstan). The moths were collected using mercury bulbs Osram HWL (MBFT) 250 W and Yalas traps equipped with UV tubes Sylvania F15w/350bl Black light and Philips TL 8W/05. The mounted specimens were photographed by the senior author with a Canon EOS 5D Mark II camera equipped with Canon EF 100 mm f / 2.8L Macro USM lenses.
Results
Trichosea ludifica (Linnaeus, 1758) (Figs 1–3)
Phalaena ludifica Linnaeus, 1758, Systema Naturae (Edn. 10), 1: 514 (Type locality: Europe). Synonymy: antrotropa Bryk, 1948; azugensis Bryk, 1948.
Material examined. 2 males, 05.VII.2015, E Kazakhstan, East Kazakhstan region, Zyryanovsky district, western Altai: western slope of Lineysky ridge, West Altai Nature Reserve, "Belaya Uba" cordon, 50°24'0.99″N 84°1'5.48″E, h=1200m., at light, S.V. Titov & K.S. Titov leg. (STP).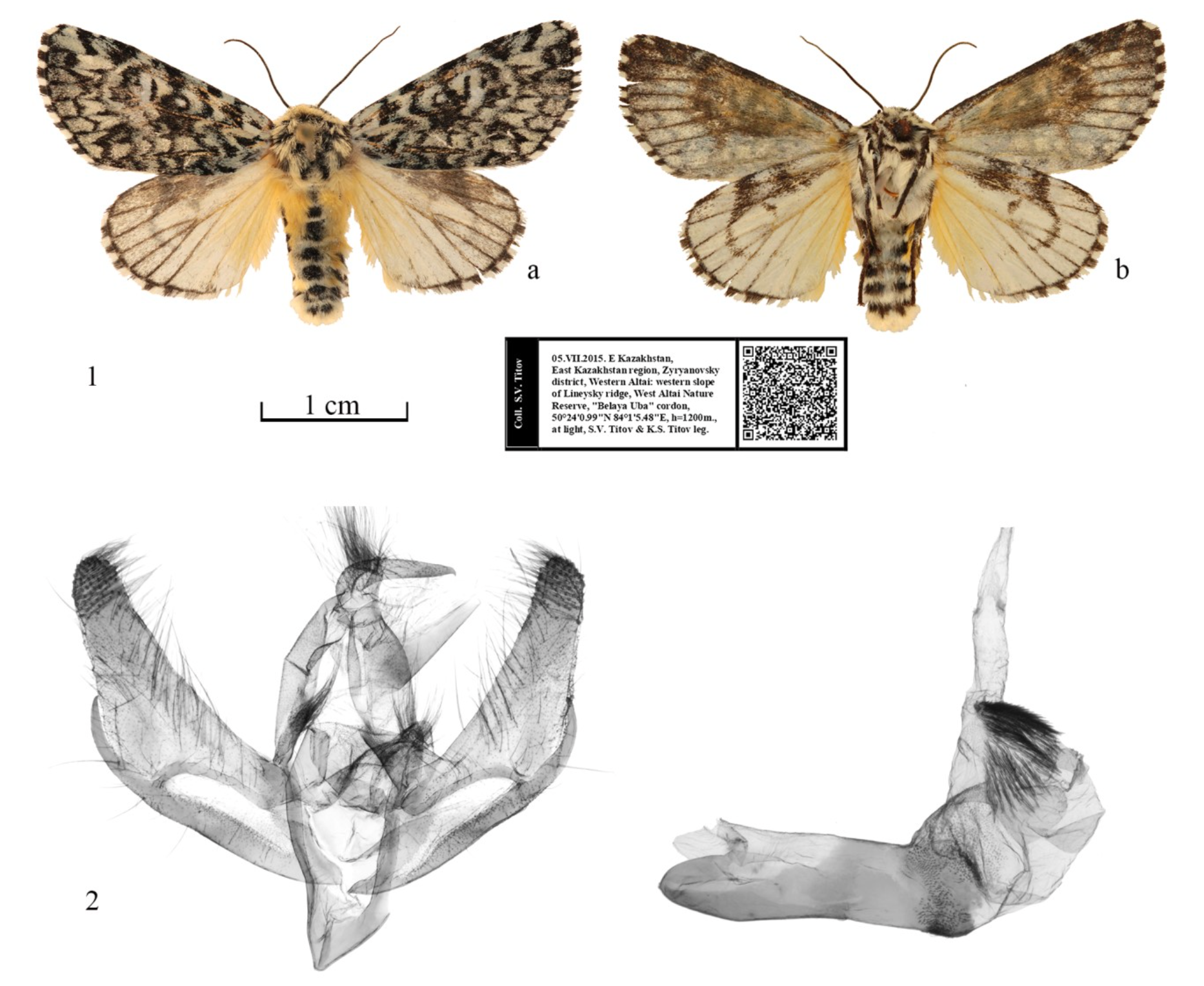 Bionomics. The species inhabits deciduous, mixed and dark coniferous mountain forests. Moths are on wing from early May to late July. Larvae are feeding on various trees and shrubs of the genera Quercus L., Betula L., Prunus L., Pyrus L., Malus Mill., Sorbus L., Rosa L., Tilia L., Ulmus L., Carpinus L., Rhamnus L., Salix L., etc. Overwinters as pupa (Kononenko 2010). In East Kazakhstan, T. ludifica was found on the western slope of Lineysky Ridge in West Altai Mountains, at the lower boundary of the forest zone in the mixed forest with the dominance of such tree and shrub species as Pinus sylvestris L., Abies sibirica Ledeb., Picea obovata Ledeb., Betula pendula Roth, B. pubescens Ehrh., Spiraea media Schmidt, Lonicera caerulea subsp. altaica (Pall.) Gladkova, Ribes rubrum L., R. nigrum L., Rubus idaeus L., Rosa acicularis Lindl., R. spinosissima L., Sorbus sibirica (Hedl.) Krylov, and Padus avium L. (Figs 3–4). The moths were attracted at light on a rainy night during the passage of a thunderstorm front between 11:00 P.M. and midnight.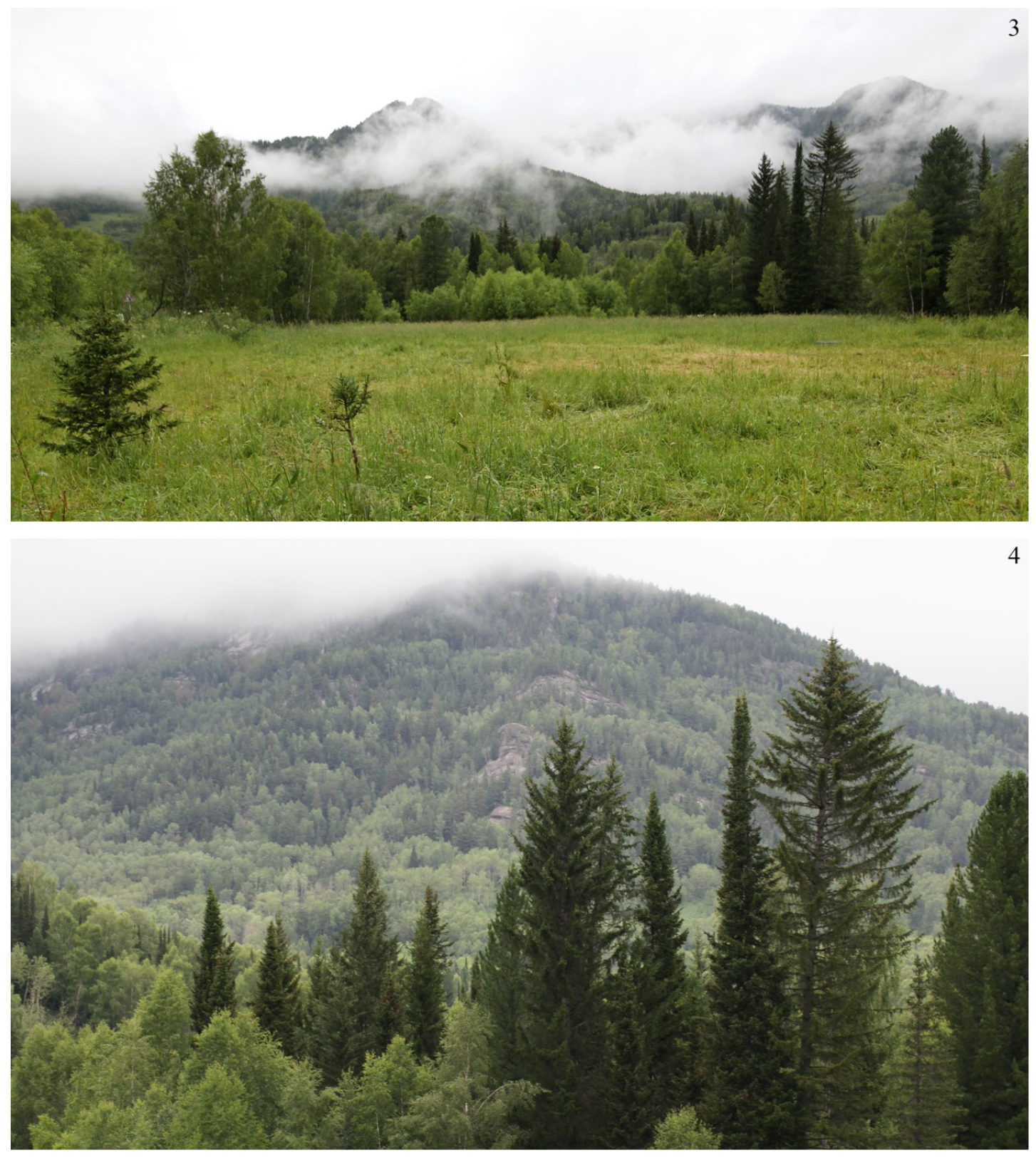 The noctuoid moths occurring syntopically with T. ludifica and collected during the same night are as follows. Erebidae: Lymantria dispar (Linnaeus, 1758), Gynaephora fascelina (Linnaeus, 1758), Leucoma salicis (Linnaeus, 1758), Cybosia mesomella (Linnaeus, 1758), Atolmis rubricollis (Linnaeus, 1758), Coscinia cribraria (Linnaeus, 1758), Arctia caja (Linnaeus, 1758), A. flavia (Füssli, 1779), Diacrisia purpurata (Linnaeus, 1758), D. sannio (Linnaeus, 1758), Phragmatobia fuliginosa (Linnaeus, 1758), Spilarctia luteum (Hufnagel, 1766), Hypena proboscidalis (Linnaeus, 1758), and Lygephila viciae (Hübner, 1822). Noctuidae: Autographa buraetica (Staudinger, 1892), A. bractea ([Denis & Schiffermüller], 1775), Diachrysia stenochrysis (Warren, 1913), Euchalcia mongolica (Staudinger, 1901), Plusia putnami Grote, 1873, Acronicta alni (Linnaeus, 1767), Colocasia coryli, Caradrina wullschlegeli Püngeler, 1903, Euplexia lucipara (Linnaeus, 1758), Dypterygia scabriuscula (Linnaeus, 1758), Apamea illyria Freyer, 1846, A. crenata (Hufnagel, 1766), Oligia latruncula ([Denis & Schiffermüller], 1775), Mniotype bathensis (Lutzau, 1905), Polia bombycina (Hufnagel, 1766), P. nebilosa (Hufnagel, 1766), Lacanobia thalassina (Hufnagel, 1766), Melanchra persicariae (Linnaeus, 1761), Ceramica pisi (Linnaeus, 1758), Hadena compta ([Denis & Schiffermüller], 1775), Mythimna impura (Hübner, 1808), Eriopygodes imbecilla (Fabricius, 1794), Diarsia brunnea ([Denis & Schiffermüller], 1775), Paradiarsia punicea (Hübner, 1803), Graphiphora augur (Fabricius, 1775), Anaplectoides prasina ([Denis & Schiffermüller], 1775), Xestia collina (Boisduval, 1840), and Eugraphe sigma ([Denis & Schiffermüller], 1775).
Distribution. Eurasian, boreal (boreo-montane) mesophilous species. Europe (probably disappeared in central Europe, currently rare in northern Europe): Sweden, Finland, Estonia, Latvia, Germany, France, Switzerland, Austria, Czech Republic, Serbia, Romania, Italy, and Spain; Kazakhstan (West Altai) (Fig. 5); Russia: European part, North Ural, mountains of South Siberia, southern Russian Far East (including Sakhalin and Kuril Islands); China, South Korea, and Japan (Kozhantshikov 1950; Sugi 1982; Dubatolov et al. 1995; Kononenko et al. 1998; Zolotarenko & Dubatolov 2000; Ahola & Silvonen 2005; Kononenko 2005, 2010; Nupponen & Fibiger 2006; Matov et al. 2008; Fibiger et al. 2009; Volynkin 2012; Aarvik et al 2017).
Acknowledgements
The senior author expresses his sincere thanks to A.T. Tokymtaev and L.N.Vinokurova (Ridder, Kazakhstan) for their kind help in organizing the studies in the West Altai Nature Reserve. We are also grateful to N.V. Premina (Ridder, Kazakhstan) for the data on natural and climatic conditions of the area of the 'Belya Uba" cordon. The study of Anton Volynkin had no foundation. The study of Sergey Titov was founded by the Science Committee of the Ministry of Education and Science of the Republic of Kazakhstan (Program No. OR11465437).
References
Aarvik, L., Bengtsson, B.Е., Elven, H., Ivinskis, P., Jürivete, U., Karsholt, O., Mutanen, M. & Savenkov, N. (2017) Nordic-Baltic Checklist of Lepidoptera. Norwegian Journal of Entomology. Supplement, 3. 1–236.
Ahola, M. & Silvonen, K. (2005) Larvae of Northern European Noctuidae. Vol. 1. KuvaSeppala Yhtiot Oy, Vaasa, 657 p.
Anikin, V.V., Sachkov, S.A., Zolotuhin, V.V. & Sviridov, A.V. (2010) "Fauna Lepidopterologica Volgo- Uralensis" 150 years later: changes and additions. Part 5. Noctuidae (Insecta, Lepidoptera). Atalanta, 31 (1/2), 327–367.
Dubatolov, V.V., Zolotarenko, G.S. & Utkin N.A. (1995) Moths from Southern Sakhalin and Kunashir, collected in 1989. Part 6. Noctuidae. Japan Heterocerists' Journal, 184, 140–150.
Fibiger, M., Ronkay, L., Steiner, A. & Zilli, A. (2009) Pantheinae, Dilobinae, Acronictinae, Eustrotiinae, Nolinae, Bagisarinae, Acontiinae, Metoponiinae, Heliothinae and Bryophlilinae. Noctuidae Europaeae. Volume 11. Entomological press, Sorø, 504 pp.
Kononenko, V.S. (2005) An annotated check list of the Noctuidae (s.l.) (Lepidoptera, Noctuoidea, Nolidae, Erebidae, Micronoctuidae, Noctuidae) of the Asian part of Russia and the Ural region. Noctuidae Sibiricae. Volume 1. Entomological press, Sorø, 243 pp.
Kononenko, V.S. (2010) Micronoctuidae, Noctuidae, Rivulinae – Agaristinae (Lepidoptera). Noctuidae Sibiricae. Vol. 2. Entomological press, Sorø, 475 pp.
Kononenko, V.S., Ahn, S.B. & Ronkay, L. (1998) Illustrated catalogue of Noctuidae in Korea (Lepidoptera). In: K. Park, T. (Ed.), Insects of Korea. Series 3. Korea Research Institute of Bioscience & Biotechnology, and the Center of Insect Systematics, Korea, pp. 1– 509.
Kozhantshikov, I.V. (1950) Fauna SSSR. Nasekomye cheshuekrylye. Vol. 12. Orgyidae. Izdatelstvo Akademii Nauk SSSR, Moscow & Leningrad, 583 p. [In Russian]
Kusnetzov, N.Y. & Martynova, E.F. (1954) A list of Lepidoptera of the List of Lepidoptera of the region of the middle course of the Ural river. Trudy zoologicheskogo instituta Akademii Nauk SSSR, 16, 321– 350. [In Russian]
Matov, A.Yu., Kononenko, V.S. & Sviridov, A.V. (2008) Family Noctuidae. In: Sinev, S.Yu. (Ed.), Catalogue of the Lepidoptera of Russia. KMK Scientific press LTD, St. Petersburg & Moscow, pp 239–296.
Nupponen, K. & Fibiger, M. (2006) Additions and corrections to the list of Bombyces, Sphinges and Noctuidae of the Southern Ural Mountains. Part I. (Lepidoptera, Lasiocampidae, Lemoniidae, Sphingidae, Notodontidae, Noctuidae, Pantheidae, Lymantriidae, Nolidae, Arctiidae). Esperiana, 12, 167–195.
Sugi, S. (1982) Noctuidae (except Herminiinae). In: Inoue, H., Sugi, S., Kuroko, H., Moriuti, S. & Kawabe, A. Moths of Japan. Volume 1. Kodansha, Tokyo, pp. 669–913. [In Japanese with English synopsis].
Titov, S.V., Volynkin, A.V., Dubatolov, V.V., Černila, M., Reznichenko, S.M. & Bychkov, V.S. (2017) Noctuoid moths (Lepidoptera: Erebidae, Nolidae, Noctuidae) of North-East Kazakhstan (Pavlodar Region). Ukrainian Journal of Ecology, 7 (2), 142–164.
Volynkin, A.V. & Nakonechnyi, A.N. (2011) Newly recorded and little known species of noctuid moths (Lepidoptera, Noctuidae) of the Russian Altai. Part III. Euroasian entomological journal, 10 (2), 243–249. [In Russian with English summary]
Volynkin, A.V. (2012). Noctuidae of the Russian Altai (Lepidoptera). Proceedings of the Tigirek State Natural Reserve, 5, 1–339.
Zolotarenko, G.S. & Dubatolov, V.V. (2000) A check-list of Noctuidae (Lepidoptera) of the Russian part of the West Siberian Plain. Far Eastern Entomologist, 94, 1–23.
PDF-version
You can download PDF-version of the article here: